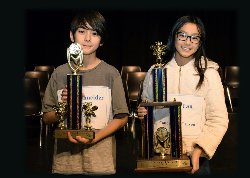 What

District Spelling Bee

When

1/23/2019, 6:00 PM

–

8:00 PM

Where

Lakeside HS, in the Tom Thomas Rotary Performing Arts Center auditorium, 32593 Riverside Dr., Lake Elsinore, CA 92530
The public is invited to attend the annual Gordon Keifer Memorial Spelling Bee, a spirited competition between LEUSD schools and contestants in grades Elementary to Middle School, to determine LEUSD's finalist and alternate, eligible to participate in the 42nd Annual County Spelling Bee under the auspices of the Riverside County Office of Education. Last year's finalists, David Schneider (Grade 5) and Illasell Tan (Grade 5) are pictured at right.
Photo caption: The 2018 SPELLING BEE CHAMPS! Runner Up (Second Place) - DAVID SCHNEIDER, Gr. 5-Donald Graham ES; First Place - ILLASELL TAN, Gr. 5-Cottonwood Canyon ES.