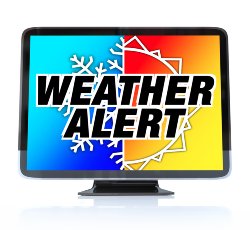 What

Ozone Advisory - Heat Advisory

When

5/8/2020, 10:00 AM

–

9:00 PM

Where

This advisory is in effect through Friday afternoon and includes the Inland Empire, inland Orange County, and San Diego Valleys.

HEAT ADVISORY REMAINS IN EFFECT UNTIL 9 PM PDT FRIDAY (National Weather Service)

WHAT: Temperatures today up to 100 in the valleys and 95 for inland Orange County.
WHERE: Inland Empire, and inland Orange County, San Diego Valleys.
WHEN: Until 9 PM PDT Friday.
PRECAUTIONARY/PREPAREDNESS ACTIONS...
Drink plenty of fluids, stay in an air-conditioned room, stay out of the sun, and check up on relatives and neighbors. Young children and pets should never be left unattended in vehicles under any circumstances. Heat stroke is an emergency! Call 9 1 1.
OZONE ADVISORY Valid through Friday May 08, 2020 (South Coast Air Quality Management District)

Areas of direct impacts and poor air quality may include portions of:

Riverside County

: Corona-Norco (Area 22), Metropolitan Riverside County (Area 23), Perris Valley (Area 24), Lake Elsinore (Area 25), Temecula Valley (Area 26), Anza Valley (Area 27), Hemet-San Jacinto Valley (Area 28), San Gorgonio Pass (Area 29), Coachella Valley (Area 30)
High temperatures are expected to persist over the next several days throughout the South Coast Air Basin...increasing the likelihood of poor air quality in many areas.
Levels of ground-level ozone (smog) – the predominant summertime pollutant – are likely to reach the

Unhealthy

or higher Air Quality Index (AQI) levels in the ... Inland Empire and the San Bernardino Mountains.
The National Weather Service (NWS) is predicting a heat wave over southern California that will last through Friday. This is due to an upper air high pressure system located over Baja California. As of Tuesday afternoon, the NWS has issued a heat advisory for the Inland Empire area of San Bernardino and Riverside Counties and the Orange County inland areas, which is in effect from 10 am Tuesday until 9 pm on Friday.

When air quality is Unhealthy and reaches an air quality index (AQI) range of 151 to 200, everyone may begin to experience some adverse health effects, and residents with higher sensitivity to air pollution may experience more serious effects. When air quality is Very Unhealthy with an AQI range of 201 to 300, everyone in the region may experience more serious health effects.
Ozone air pollution can cause respiratory health problems, including trouble breathing, asthma attacks, and lung damage. Research also indicates that ozone exposure can increase the risk of premature death. Children, older adults, and people with asthma or COPD may be more sensitive to the health effects of ozone.